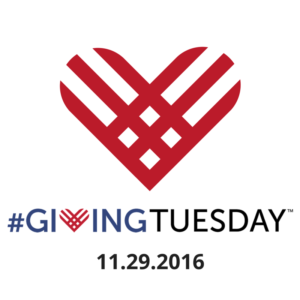 Celebrated on the Tuesday following Thanksgiving (in the U.S.) and the widely recognized shopping events Black Friday and Cyber Monday, #GivingTuesday kicks off the charitable season, when many focus on their holiday and end-of-year giving. Since its inaugural year in 2012, #GivingTuesday has become a movement that celebrates and supports giving and philanthropy with events throughout the year and a growing catalog of resources.
www.givingtuesday.org
November 29 is #GivingTuesday 2016, a global day dedicated to giving, which began in 2012. It is also the day that we begin our year-end campaign and we hope you will consider supporting the future of the Solace Tree and help us reach our goal to raise $10,000 by December 31.
In this ever changing rapid world, we see that all too often children and teens feel unprotected. For all youth, loss is natural, but an extremely difficult part of life. Children depend on consistency and stability to reach developmental milestones and that is why the Solace Tree has been a crucial part of their healing process because it provides a safe haven for all grieving children, teens and adults.
Over the past year, we have worked with and helped 273 children, 118 teens, and 146 adults through the programs and services provided by the Solace Tree. Thanks to our 24 volunteers who donated an average of 288 hours a month or a total of 2,160 hours during this time, as without them none of this would not be possible. And without YOU, we could not have funded any of these programs, therefore we are asking for your continued support at this crucial time of year. Your donation will allow us to continue this program both at our facility on Foster Drive and through outreach in the schools.
Payments can be mailed to:
Solace Tree, PO Box 2944, Reno, NV 89505
Or made online at:
www.solacetree.org/ways-to-help/donate-2/
With gratitude,
Emilio Parga Executive Director
"It helped to know that other people understood what I was going through." – Charlie (11)
"Because Emilio came to our school, my teacher remembers days that are difficult, like Mother's Day and my mom's birthday." – Alex (9)
"The Solace Tree helped me understand that it wasn't something I did or didn't do that made my dad die." – Chris (13)
"When my brother died I was sad, but I helped my mom and dad choose the flowers for the funeral and that made me feel proud." – Jacob (10)